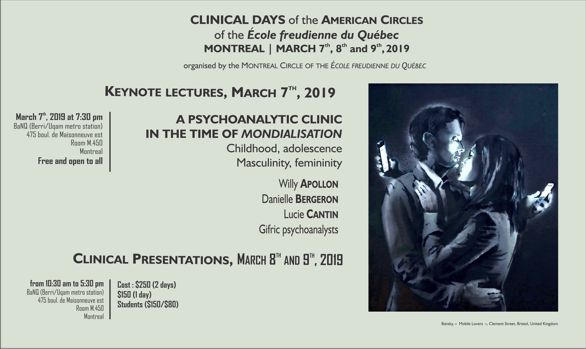 ---
Each year, the American Circles of the École freudienne du Québec organize "Clinical Days" which are dedicated to clinical case presentations given by American clinicians. In addition to these two days of clinical presentations, which have alternately taken place in Chicago, Boston, Los Angeles, Puerto Rico, Buffalo and Toronto, there are also public lectures addressed to the members and collaborators of the Circle that organizes the event. At the request of the Americans, the Clinical Days will, exceptionally, take place in Montreal this year. Since the Clinical Days will take place in Quebec, French translation will be provided for the clinical presentations, and the public lectures will be given in French with English translation.
---
Keynote Lectures, March 7th 2019, 7:30 pm
A Psychoanalytic Clinic in the Time of Mondialisation
Childhood, adolescence, masculinity, femininity
Willy Apollon, Danielle Bergeron, Lucie Cantin, Gifric psychoanalysts
In our contemporary world, marked by mondialisation, children and adolescents are no longer subject to a stable set of ideals, norms, and models. This observation is fundamental to Willy Apollon's recasting of the psychoanalytic clinic, at Gifric, in order to sustain the possibility of the psychoanalysis of psychoses today. More and more, in the major cities of the Western world, and despite the fact of the shared legal framework and linguistic practices that govern the social link, the internal framework of the family involves members from different cultures and civilizations. People whose families of origin are structured by different ideals, norms, and cultural models must construct a way to live together in a cultural framework where the foundations of the believable are foreign to them. What are the consequences of this situation where no individual can appeal to the universality of norms of which he or she would be the cultural inheritor? There is a certain risk that social life will devolve into so many solitudes mediated by a growing variety of digital tools and ideological explanations that claim to be scientific, but which serve the interests of capital rather than those of the human. Psychoanalysis, in addressing itself to the human beyond the constraints of culture and civilization, looks to respond to this new reality by opening, for the subject, a possibility of articulating the stakes of the human to the constraints and openings of the city in the world to come.
Where :
BaNQ (Berry metro station)
475, boul. de Maisonneuve est
Room M. 450
Montreal
FREE AND OPEN TO ALL
---
March 8th and 9th, 2019
Clinical Presentations by participants
on the theme « Symptom and Castration »
Teaching and discussions led by the teaching analysts of Gifric
Willy Apollon, Danielle Bergeron and Lucie Cantin