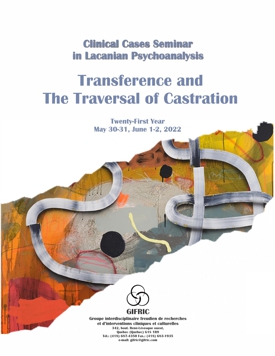 [Information and registration]
---
Because of the pandemic,
there will be no Training Seminar this year - 2022
---
Journées intercercles
February, 11-12, 2022
L'enjeu de la deuxième enfance dans le rapport de l'enfant aux parents
C'est quoi l'objet du refoulement?
L'enjeu de la puberté dans le rapport à la société
C'est quoi l'objet du refoulement?
Coût de participation : 150$
INSCRIPTION

---
Après-Coup Psychoanalytic Association
présente
"A Colloquium in New York"
Psychosis and the Social Link

CONFÉRENCES

Le traitement psychanalytique des psychoses
Conférenciers invités : Willy Apollon, Danielle Bergeron, Lucie Cantin
psychanalystes au Gifric
The Psychoanalytic Treatment of Psychosis at the 388 :
The Results of the Last 37 Years
Willy Apollon
The Frame of the Psychoanalytic Treatment
Sustains the Subject in the Analysis
Danielle Bergeron
The Team's Accompaniment to Each Logical Stage of an Analysis
Lucie Cantin

[consulter l'argument de la conférence]
Friday, November 1, 2019
6:30 p.m. - 9:30 p.m.
JOURNÉES CLINIQUES

Présentations de cas cliniques par les participants
et enseignement par les psychanalystes du Gifric
Saturday, November 2, 2019
10:30 a.m. - 1:00 p.m.
2:00 p.m. - 4:00 p.m.
Présentations de cas cliniques
par les analystes d'Après-Coup
Sunday, November 3, 2019
10:30 a.m. - 2:00 p.m.
School of Visual Arts
136 West 21st Street
Ask for the Room Number at the Front Desk
Clinical Days in Toronto
November 30, December 1-2, 2017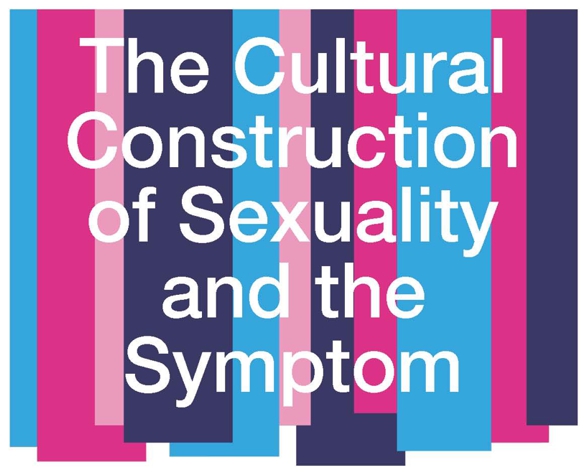 Friday 12/1/17 and Saturday 12/2/17
9am - 5pm
Women's Art Association of Canada
23 Prince Arthur Avenue
Toronto, ON. M5R 1B2
Help Haitian students participate in the colloquium "Representations of Mental Illness in Haiti." Your gift will defray registration fees as well as the cost of meals for students. The entirety of the donations will go to the responsible party at the university who will organize financing for students.

Dr. Willy Apollon, psychoanalyst and philosopher, will give the opening and closing talks. Ms Lucie Cantin, psychoanalyst and psychologist, and Dr. Danielle Bergeron, psychoanalyst and psychiatrist, will give workshops in the afternoons on the themes of "adolescence and femininity" and "adolescence and masculinity."

The colloquium will take place in a number of conference rooms with simultaneous presentations by professionals and specialists both from Haiti and abroad.

Thank you for your generosity!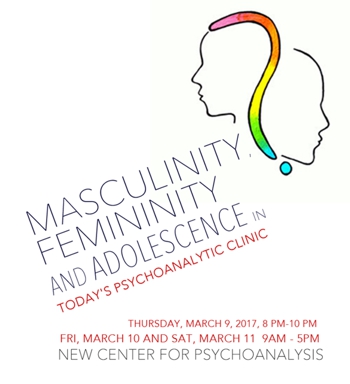 Artwork by Nikeeta Shah
---
The Chicago Psychoanalytic Circle invites you to a public lecture
and two-day clinical conference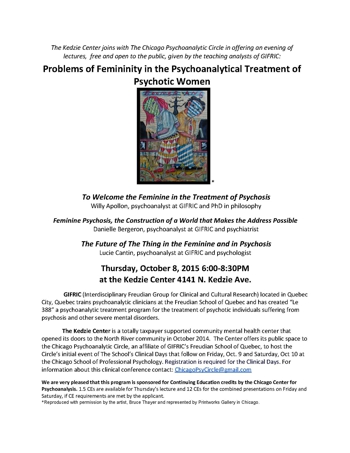 Problems of the Feminine in the Treatment of Psychotic Women
To Welcome the Feminine in the Treatment of Psychosis
Willy Apollon,
Psychoanalyst and philosophy doctor
Feminine psychosis, the construction of a world that makes the address possible
Danielle Bergeron
Psychoanalyst and psychiatrist
The Future of the Thing
in the Feminine and in Psychosis
Lucie Cantin
Psychoanalyst and psychologist
Free and open to the public
Friday October 9 & Saturday, October 10, 2015
Two Clinical Days: Case Presentations with Teaching by the Analysts

at the Chicago School of Professional Psychology
325 N. Wells St.Chicago
Conference room 412 - 4th Floor

early registration by 9/15/15 : 225$